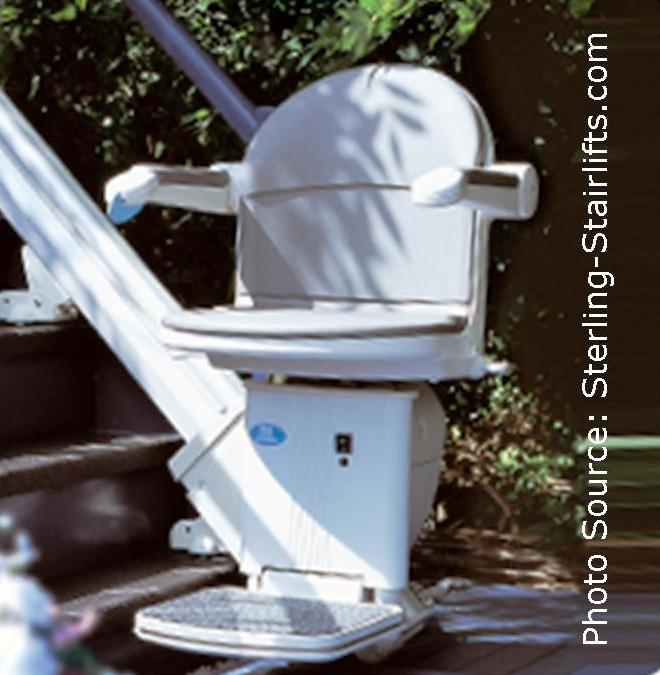 More of today's Americans are over 60 years old than ever before. In 2000, 16.3% were over 60, but in 2010 this had risen to 18.5%. By 2020, this population will swell to 22.2%. The over 60's will constitute a full quarter of the population by 2050! In the metro Atlanta area, more and more seniors are choosing to age in place in their current home rather than move in with relatives or go to an assisted living facility.
Staying at Home
Instead of buying a smaller home, more Americans are finding it preferable to deal with mobility issues by retrofitting their existing homes. Adding space in the entry, kitchen, bathroom and living areas makes the home more accessible to a wheelchair, walker or scooter. Oftentimes adding in room for a stairlift or residential wheelchair lifts. Keeping costs down is also a big factor in staying put.
Outdoor Stairlifts
However, the old family home may have problems. While a one-step into the front door can be fixed by a ramp, getting out into the yard or garden can be a frustrating challenge. Many porches, decks and patios have small stairwells where a ramp can't be built due to space constraints. This is easily solved by stairlifts specifically designed for outdoor use.
Outdoor stairlifts are waterproof, have UV-protected upholstery and even a security feature to prevent unauthorized use. Now a bit of gardening work is only a quick ride away, instead of a dangerous walk down stairs. Would an outdoor straight or curved stairlift, or a platform lift solve the accessibility problem at your Atlanta home?
Contact the Experts!
Don't let mobility issues force you out of your treasured family home, contact Atlanta Home Modifications to see if an outdoor straight or curved stairlift would solve the accessibility problem at your Atlanta home. If you or a loved one has a home in need of mobility upgrades, contact the professionals at Atlanta Home Modifications to learn more about residential wheelchair lifts and other helpful changes by using the Atlanta Home Modifications web contact form, or by calling 770-880-3405.