Puttering around in the garden is one of those often-used stereotypes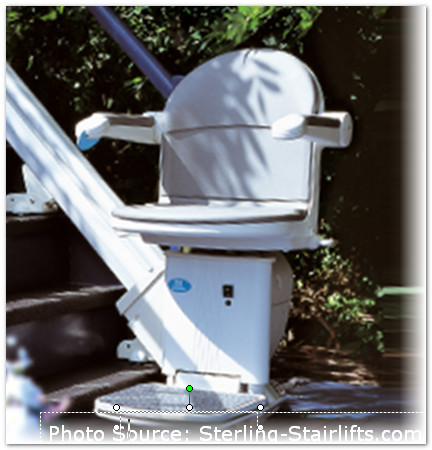 about retirement that you see in movies and TV shows. But for seniors or disabled persons who really do wish to work in their garden, their home's design can be a real problem. While porches and decks can usually be quickly modified with aluminum and wood ramps, any stairs down into the yard present a dangerous hazard to those who are mobility impaired. The answer to this safety concern is the Outdoor Sterling Stairlift 1000.
Outdoor Mobility
Whether going up to the main doorway or down to the garden, the Outdoor Sterling Stairlift 1000 is designed to take what nature can dish out to provide years of mobility for people wishing to age in place in their own home.
Weather Tested & Secure
The Outdoor Sterling Stairlift 1000 features fits the needs of the elderly and disabled.
Fully waterproof
UV protected upholstery
Safety belt and comfortable ergonomic chair design.
Security key-switch to prevent unauthorized use
Safety sensor to detect a blocked track.
For curved stairs, the Sterling Stairlift 2000 offers these same benefits.
Call Today!
If you are looking for the right outdoor stairlift for your home, contact the certified professionals at Atlanta Home Modifications using our email contact form, or give us a call at 770-880-3405!
Related articles