Curved stair lifts from Stair Lifts Atlanta, are designed for stairs with a landing in the middle. The curved lift enables an infirm resident of the home to travel between floors with ease, and are the choice for individuals who can transfer in and out of the chair lift. Sterling 2000 curved stair lifts are custom made according to the dimensions of your stair.
Stair Lifts Atlanta offers in-home appointments to evaluate and measure for a curved stair lift to specifically meet the needs of the individual with a disability. Whether you (or a family member) is returning from rehab due to an accident, or experiencing the effects of a progressive illness, the Sterling 2000 curved stair lift fits most stair configurations.
Sterling offers tight track bends and the latest technology available from stair lift manufacturers, accommodating a wide range of stair arrangements. The Sterling 2000 curved stair lift folds up easily and conveniently to allow family memb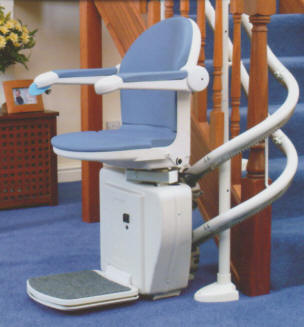 ers to walk around the lift on the stairs.
Optional features allow the user to fold the footplate, and enable the seat to swivel at the top of the staircase. Handicare makes custom curved stair lifts quickly and precisely to fit your stair your Atlanta, Marietta, Athens, or Gainesville home. The Sterling 2000 comes with a lifetime warranty on the gearbox and motor.
Remote control: According to the Handicare website, "Sterling stair lifts can also be operated by remote control; all lifts come with this as standard. These hand held remote controls can either allow a caregiver to operate the stair lift on behalf of the user, whilst walking along next to them, or can be used to send and call the lift between levels. The latter is particularly useful for homes where more than one person benefits from the use of the stair lift."
Contact Atlanta Home Modifications, LLC for more information about Sterling 2000 curved stair lifts for Atlanta, Marietta, Lawrenceville, Athens, and Gainesville homes. Our Georgia certified stair lift installer will assist you in the selection of a lift that is perfectly suited for you and your home. Image Source: Sterling Stair Lifts
Contact Atlanta Home Modifications, LLC by telephone at 770.880.3405 or visit us online at the Atlanta Home Modifications, LLC website.
Related articles