Over the years Stair Lifts Atlanta, LLC has written extensively about costs associated with the purchase and installation of a stair lift. We're excited to share this Atlanta Stair Lift Cost Guide for 2020 in the hope that you can use the information to purchase the best stair lift for you (or your loved one) at the best price.
Speaking generally, many factors affect stair lift prices, such as staircase length, whether or not special features are needed, and the stair lift seat size and weight capacity. However, the primary factor that affects the price is whether you need a straight stair lift or a curved stair lift. We discuss the costs associated with each below.
You may have heard that in 2020 seniors make up a larger portion of the US population than ever before. Aging is often accompanied by physical challenges causing mobility issues that prevent people from climbing steps. In an effort to help you solve these basic mobility challenges in your home, we'd like to begin by sharing basic information about stair lifts, how they work, and who benefits from them. We'll conclude this Atlanta Stair Lift Cost Guide For 2020 article with cost information that will enable you to select a straight or curved stair lift for yourself or family member.
How the Stair Lift Works

Let's first talk about how the stair lift works. It typically has a chair mounted on a railing, with a mechanism (motor, gears and gearbox) that enables the chair to move up and down the stair lift railing. The railing mounts onto the stair steps and does not attach to the wall.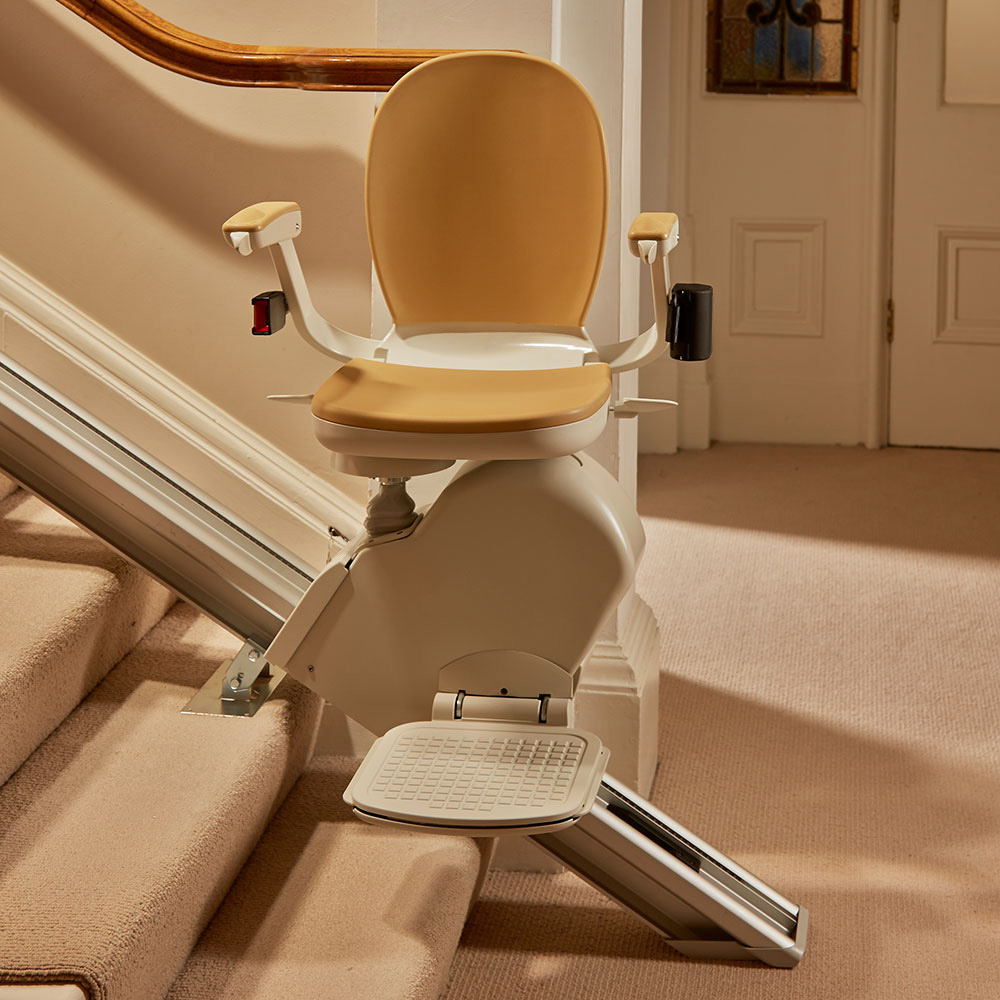 Stair lifts offer maximum comfort and convenience for people with a mobility challenge. They are operated by using a remote control to bring the lift up or down the stair. Each stair lift has a battery backup removing the possibility of the rider getting stuck on the stair in the rare occurrence of a power outage.
Stair lifts have well-designed safety features that reduce the risk of a fall or injury for someone who struggles to navigate stairs. The stair lift is equipped with armrests and a seatbelt, and it moves slowly enough up and down the stairs so that the rider feels comfortable, but fast enough that the rider does not begin to feel impatient.
Who Benefits from a Stair Lift
Individuals who are wheelchair bound and require a lift in order to be moved from one place to another are not good candidates for a stair lift. A person who is bound to use a wheelchair or scooter requires a platform lift or elevator to go from one floor level to another.
Stair Lift Types

There are two main types of stair lifts that are commonly used by the individual who has the mobility to get in and out of the stair lift — the straight stair lift and a curved stair lift.
Straight Stair Lift for the Straight Staircase
The straight stair lift is designed to be installed on straight staircases That travel in one direction with regularly spaced steps and no landings. The straight stair lift is the least expensive among the different types of stair lift, as the lift comes standard and the primary adaptation is to railing length.
Curved Stair Lift for the Curved or Irregular Staircase

The curved stair lift is used where a stairway has a landing in the middle, unevenly spaced steps, or an unusual configuration. Every curved stair lift is custom designed and is built to fit the exact dimensions of the staircase it's being made for.
Perch Stair Lift or Standing Stair Lift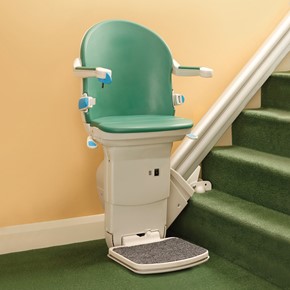 Another type of lift is the standing stair lift, also referred to as a perch stair lift. It has a smaller platform that allows the passenger to go up and down the stairs while standing.
These are designed to be used by people who are experiencing problems with bending their knees. They are also useful in situations where the stair is very narrow.
Weather Resistant Outdoor Stair Lifts
Outdoor stair lifts are used in situations where there is a stair between a driveway and a front porch, for example. They can also be used in outdoor gardens or backyards that have steps. The primary feature of the outdoor stair lift is that it is made of weather resistant materials effectively making it waterproof.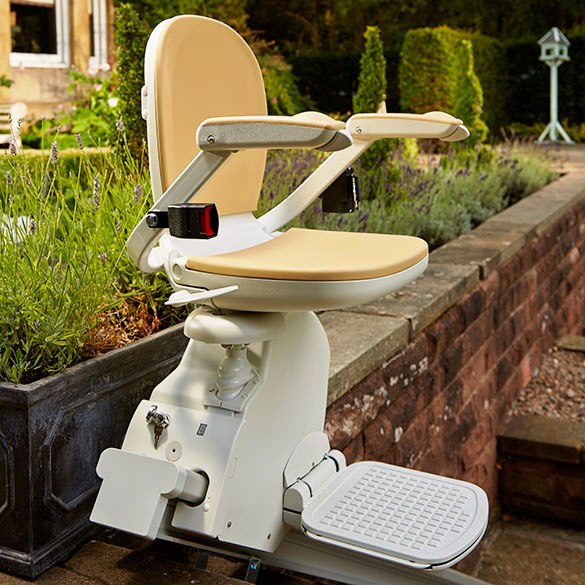 The cost for an outdoor straight stair lift is approximately 15% more than the standard price of an interior stair lift. A lightweight cover is available for the stair lift to provide protection when it is not being used.
Each of these stair lift types has a slightly different price range which we'll note in this Atlanta Stair Lift Cost Guide for 2020.
Stair Lift Pricing Typically Includes Everything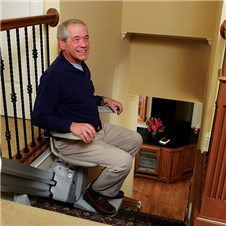 Our stair lift pricing includes everything necessary for you to have a functional, state-certified stair lift installed in your home. Our services begin with the complimentary home assessment when the Georgia certified stair lift installer comes to your home, evaluates the person's abilities and needs, and the configuration of the stairs, to give you an appropriate recommendation on suitable stair lift models.
The price quoted for the lift includes the assessment, equipment, installation and state certification and review. The installed straight stair lift typically costs anywhere from $3500 to $4900.
The installed curved stair lift also includes every aspect of the stair lift installation including the assessment, equipment, installation and state certification and review.
The curved stair lift often costs over $10,000 and can even go above $20,000 if multiple flights are involved or for a spiral or irregularly curved staircase.  
Features that Impact Price
Various features will impact the price of the straight stair lift, such as the following:
Length or Profile: Extra length on a straight stair beyond approximately 15 steps or stair lifts with a narrow profile required for a narrow stair
Rail and Footrest Options
Certain rail configurations allowing for a 90° or 180° park arrangement
A power folding rail at the top or the bottom with a hinge to allow the rail to fold when the lift is not being used in order to open up the hallway for pedestrian traffic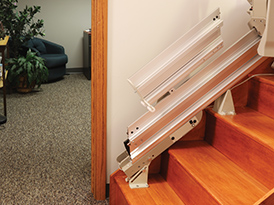 Unique situations at the top and bottom of the stair that require the lift to overrun
A power folding or wide foot rest
Seat Options: Stair lifts come standard with fixed seats, some of them come with optional sizes. They also offer a power swivel seat and higher-quality upholstery on the chair seat.
After reading this Atlanta Stair Lift Cost Guide for 2020, please reach out to us with any questions you may have. Call Stair Lifts Atlanta, LLC at (770) 880-3405 or send an email using our website contact form to arrange a free in-home assessment.
Do you need other home accessibility options such as roll-in showers, walk-in tubs or roll-under sinks? Call or email us today for more information.