Incline platform wheelchair stair lifts provide accessibility for seniors and people of all ages with mobility challenges by making an entire home accessible for those who cannot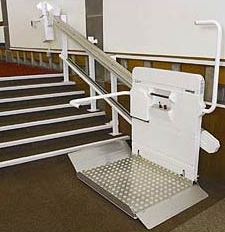 easily walk up and down flights of stairs. However, many stair lift designs are suited only to those who are otherwise mobile. Sometimes, it is necessary for people to use wheelchairs, due to conditions that limit their mobility.
Thankfully, incline platform stair lifts have been devised to accommodate wheelchairs. No longer must any space within a home be off-limits. No longer must people struggle to get on and off a standard chair lift and keep a wheelchair on every floor. With an incline platform wheelchair stair lift, anyone can get around the home easily in their own comfortable wheelchair.
 These specialized inclined platform wheelchair stair lifts for disabled individuals and seniors feature a large platform base onto which a wheelchair is locked into place. Simple controls make these stair lifts easy to use. They support both lightweight standard wheelchairs and heavier mobility chairs, so that the entire home can be enjoyed. Incline platform wheelchair stair lifts significantly help disabled Atlanta residents.

Atlanta Home Modifications offers many home assistive technology products, including incline platform wheelchair stair lifts for disabled individuals, and for anyone who wants to remain in the comfort of their home as they age and their needs change.  Reach out to Atlanta Home Modifications today for more information by using our online Contact form, or calling us at 770-880-3405.
Related articles: