Are you shopping for a stair lift and comparing stair lift prices between an Acorn, Bruno or Sterling stair lift? Many factors affect stair lift prices for your Atlanta home. The primary consideration is the configuration of the stair.  Is it a straight stair or a curved stair? Stair lift prices for curved lifts are higher than straight lifts, but many stairs, such as a switch back stair with a landing in the middle, could require a curved lift.
Straight Stair
If your stair is a straight stair with no landing along the length of the stair, you can have a standard straight stair lift installed. The installed price for a straight stair lift is typically between $3000 and $3200, under normal stair conditions, including the Georgia certification and inspection fees.
Curved Stair
If there is a landing requiring a curved stair lift installation, it is necessary for you to have a custom-built curved track and lift ordered. The lead time and cost are more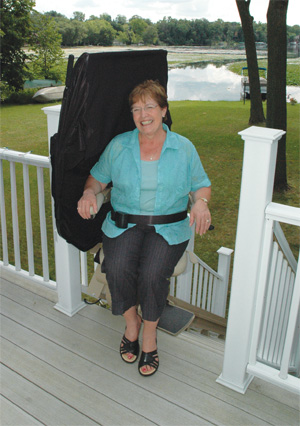 than what is required for a straight stair lift. One way to try to minimize the cost and ordering time is to install two straight lifts. Using two straight lifts will require the stair lift passenger to be physically able to stand up and transfer from one chair to another at the landing.
Optional Features that Affect Stair Lift Pricing:
Extra track
Track overrun at the top of the stairs
Call/send remote controls
Power seat swivel
Power footrest
Additional charging stations
Seat size or style
Contact Stair Lifts Atlanta today for straight and curved stair lift prices for your metro Atlanta or north Georgia home by calling (770) 880-3405 or sending us an email using our website contact form.