Stair Lifts 101: Tips for Buying a Stair Lift
Are you a North Georgia resident interested in aging in place, desiring to stay in your comfortable home for as long as possible? Most seniors want to do just that, but not every home is handicap accessible, with an easy no-step entry or a master bedroom and bath on the first floor. What can you do? You can buy a straight stair lift for a straight stairway, or a custom designed curved stair lift for stairs with landings.
How to Select a Stair Lift
One of the first tips for buying a stair lift for your North Georgia home addresses the question, "Will I need a curved stair lift or a straight stair lift?"
Straight stair lifts for straight stairways are easily purchased and installed in just a few days because they fit the standard straight stair, with a regular rise and run pattern that goes straight up from one floor level to the next.
A custom designed curved stair lift will fit your home best if it has the following:
Switchback stairs that go up 6 or 7 steps to a landing, then up another 6 or 7 steps to the next level
Curved stairs that curves in a fixed radial pattern
Irregular straight stairs that have one long step in the middle, or shifts in one direction part way up the stair.
Who is a Candidate for a Stair lift?
One of the most important tips for buying a stair lift involves who is a good candidate for one. People with mobility issues who have difficulty climbing stairs (but who are otherwise mobile and can easily get around walking) may require a stair lift to age in place safely and effortlessly. The individual who is wheelchair confined, requiring a lift to move from one spot to the next, will need a vertical platform lift or inclined platform lift for mobility in the home.
What is the Process from Stair Lift Purchase to Installation?
First, the state certified stair lift installer will call you to set up a free in-home appointment to assess the stairway, and provide product information and pricing. Once a stair lift has been selected, the equipment will be ordered (if the installer does not have it in stock). Installation, training on using the lift, and final inspection all wrap up the process from stair lift purchase to installation.
It is helpful when shopping for a stair lift, to research manufacturers and models. Whether you are purchasing a straight stair lift for a straight stairway, or a custom designed curved stair lift for stairs with landings, stair lift quality, capacity, warranties, and dependability ratings vary from model to model.
Call Stair Lifts Atlanta, LLC at (770) 880-3405 or send an email using our website contact form to arrange a complimentary home assessment.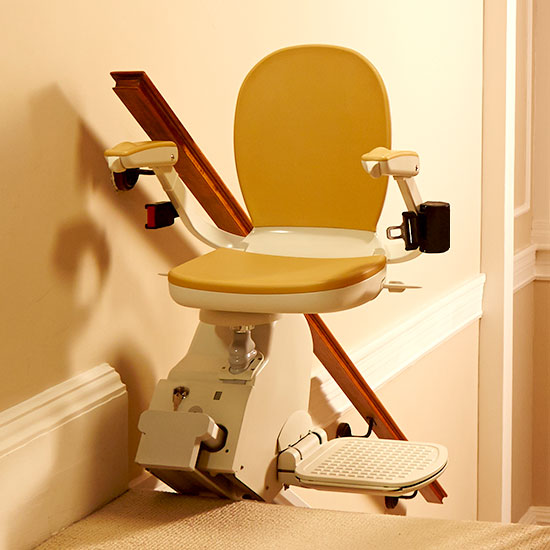 Do you need other home accessibility options such as roll-in showers, walk-in tubs or roll-under sinks? Call or email us today for more information.