The idea of retirement as a time to turn one's attention to the simplicity and enjoyment of life, particularly the refreshment of being outdoors more, is picturesque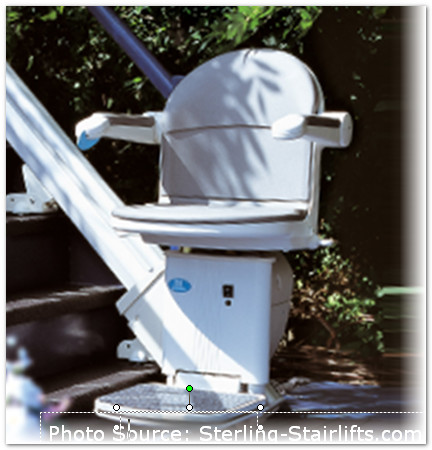 indeed. However, for those with disabilities or mobility issues, this can be quite a challenging dream to attain. Until now. Now there are outdoor stair lift selections to meet the needs of everyone who wants to get out into nature!
Whether you need to scale a few stairs or many, it is easy to overcome these obstacles with the outdoor Sterling Stair Lift 1000 for straight staircases and the Sterling Stair Lift 2000 for curved ones.
Both Sterling Stair Lifts are rugged in construction and are able to take all types of weather conditions gracefully and attractively. Sterling by Handicare says, "All our stairlifts are tested and approved by worldwide independent inspection services. This gives you the assurance that all our products meet the highest standards in terms of quality and safety." Each one provides:
Waterproof materials
Non-fading, UV resistant upholstery
Secure seat belt and comfortable cushioning
Key-lock operation to prevent unauthorized use
Built in safety features
Mobility challenges should not restrict your enjoyment of instant connection to the beautiful outdoors, especially when accessibility is gained easily through these outdoor stair lift selections. Stair Lifts Atlanta can help keep the "gold" in "the golden years" with options for landscaping and hardscaping for accessibility, especially as provided by our favorite landscaping services company, Greenlawn Georgia. Contact Greenlawn Georgia for a free consultation at (770) 375-9640 or via the contact form.
Schedule an at-your-home consultation today to determine which stair lift best meets your needs – and bring the outdoors within your reach today!
For more information, visit our FAQs (Frequently Asked Questions) Page. To schedule a complimentary home assessment, please call us at 770-880-3405 or submit an online contact form.