Are you or a loved one at a point in your life where you are experiencing difficult physical challenges and now see that with strategic aging in place changes to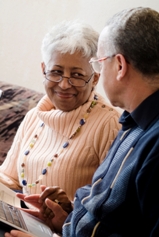 your Atlanta home your life will become more manageable?
Atlanta Stair Lifts works with Atlanta Home Modifications, LLC specializing in handicap accessible home modifications that assist people who are returning home from rehab, experiencing a disability after an accident, experiencing the effects of a progressive disease or simply require modifications due to moving into a new home. Some of the home renovation work we perform are:
Stair lift and ramp installation
Widening of hallways and doorways
Adding on to accommodate aging in place needs
Additions to add accessible bed and bath to the first floor
Creating an accessible zero-step entry / barrier free entry area
Adding space in the home for wheelchair maneuverability
Increase natural lighting
Contact Atlanta Home Modifications to make an appointment to schedule an in-home assessment to evaluate your family home. We will evaluate your home and determine whether or not with strategic aging in places changes to your Atlanta home, your home will become more manageable.
Atlanta Home Modifications, LLC specializes in handicap accessible home modifications for people looking for barrier free accessibility design, including grab bar installation, stair lifts, platform lifts, chair lifts, wheelchair ramps for homes, assistive technology, roll-in showers and walk-in hydrotherapy bathtubs.
You can contact Atlanta Home Modifications by telephone at 770-880-3405 or by visiting the Atlanta Home Modifications website. Stop by and read Our Story!
Related articles