A wide array of affordable state-of-the-art stair lifts are available for your Atlanta, Lawrenceville, or Gwinnett County,  Georgia home by manufacturers  such as Bruno, Harmar, Horcher, Savaria, and Sterling. Certified Georgia stair lift and elevator installers complete the installa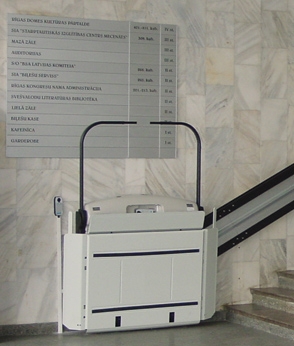 tion of residential elevator, vertical and inclined platform lifts and overhead lifts. A lifts professionals is available for an in-home consultations to evaluate your stair, and to discuss your mobility and wheelchair requirements.
Stair or platform lifts are quickly and easily installed at interior basement or first floor stairs, front or side door entry, back porch or deck entry, or a garage or carport entry. Ordering straight stair lifts can take as little as two days. Custom stair lifts require manufacturing and therefore take longer to order.
Atlanta Home Modifications, of Lawrenceville, Gwinnett County offers complimentary home evaluations to determine  if a lift is necessary for you or your family member. We provide assessments for safety for adults and children with disabilities in Atlanta, Lawrenceville, Gwinnett County and surrounding communities.
Contact Atlanta Home Modifications, LLC by calling 770.880.3405 for assistance in the selection and installation of a ramp, platform lift, stair lift, chair lift or residential elevator for your home. We have the expertise to provide your Atlanta, or Lawrenceville, Gwinnett County home with an affordable, wheelchair stair or platform lift.
Image via Savaria Lifts