The attractive and affordable Sterling Simplicity+ straight stair lift for wheelchair or walker patients installs quickly and easily into Atlanta homes. With every essential feature, you will be thoroughly satisfied with this stair lift product. With a maximum 265 lb weight capacity, the Sterling Simplicity+ is ideal for many homeowners with a disability.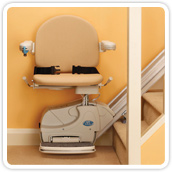 Contact Atlanta Home Modifications, LLC for cost, availability and installation information at our AtlantaHomeMods.com website or by telephone at 770.880.3405.
The following are details about the Sterling Simplicity+ straight stair lift: "The Simplicity+ offers the choice of manual or powered folding footplate and swivel options. The Simplicity+ is compatible with the Slide Track, powered and manual hinge systems so if you have a doorway close to the bottom of your stairs the Simplicity+ offers you a range of solutions to prevent the track from causing an obstruction. The Sterling Simplicity+ comes with 2 year manufacturer's parts warranty and lifetime warranty on the gearbox and motor."
Comes standard with DC power charging along the track
Optimized Sterling control switch for dexterity
Upholstered seat in various colors
Narrow profile at rail, and fold-up arms and seat for pedestrian passage on the stair
Lift supplied with safety settings that will make it stop with any obstruction
Lift is 14.5″ from wall in fold-up position
265lb maximum user weight
The largest home medical equipment and trade show in the United States, Medtrade, is scheduled to be held at the Atlanta Georgia World Congress Center. The Conference will run from October 24 thru October 27, 2011. The Expo will run from October 25 thru October 27, 2011.
From Trade Fair Dates, "Medtrade … Exhibitors will be showcasing the latest products and innovations that will make it easier for their customers to treat their patients with optimal care. In addition, visitors have the opportunity to interact with renowned experts from the industry and thus to deepen their knowledge."
From Medtrade.com,  "Homecare Works for Patients. Medtrade Works for You! Stay ahead of HME industry changes and find the latest tools to help your clients. Join us at the largest

home medical equipment tradeshow in the US as we bring more exhibitors, more ideas, and more products than ever before. New exhibitors bring new products to help you serve your patients better. " "Medtrade is the largest tradeshow in the world focused exclusively on the home medical equipment market and is designed to provide you with high quality and effective, sales, marketing, educational, advocacy and networking opportunities."
Handicap Accessible Kitchen  |  Handicap Accessible Bathroom   |  Wheelchair Ramps  |   Stair Lifts & Elevators
Bruno Stair Lifts  |  Sterling Stair Lifts  |  EZ-Access Ramps  |  EZ-Access Lifts  |  Moen Bath Fixtures