The Sterling 2000 Stairlift is a nationally known stair lift system offering a smooth ride and a slender profile enabling easy passage on your stair for all family members. Attractive and affordable Sterling 2000 Stairlifts offer a perch seat solution for individuals with limited hip or knee movement.
The Sterling 2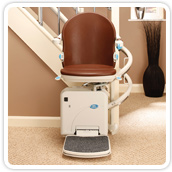 000 curved stair lift may be optionally fitted with a powered automatic hinge solution to prevent the track from blocking a doorway at the bottom of the stairs. Another optional feature available is a powered folding footplate and to swivel the seat away from the stair at the top. It comes with 2 year manufacturer's parts warranty and a lifetime warranty on the gearbox and motor.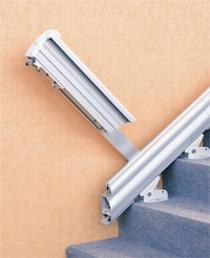 The Sterling curved stairlift has a twin rail system and is custom designed to travel according to the shape of your stair, around walls, and corners – suited to a wide range of stair configurations. If you are interested in learning more about a Sterling curved stair lift for your metro Atlanta or North Georgia home, you may contact Atlanta Home Modifications, LLC here. A Sterling Stairlift Guide is available here. The Sterling 2000 provides a secure, trustworthy and comfortable solution to the challenge often presented by stairs in the home.