The Sterling 950 stair lift is an attractive, roomy and stylish lift perfectly suited for the accessible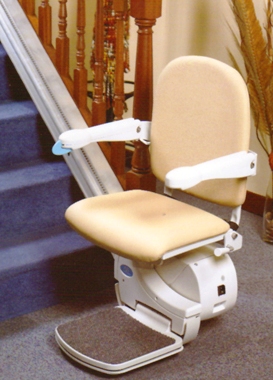 home. With quick installation time, and a narrow profile, the Sterling 950 is an affordable option for many homeowners.  It is available with either a manually operated or power footplate and swivel options.
The straight stair lift is the most common type of lift installed today. Most stair lifts are available with a battery, to ensure operation during a power outage, and run off of a standard electrical outlet in the home. Straight stairlifts can typically be installed in half a day. The Sterling 950 straight stair lift is manufactured by Handicare.
Georgia Certified Lift Installation
Every Stair Lifts Atlanta, LLC stair lift installation is performed by technicians certified by the State of Georgia, offering professional home lift installation, maintenance and repair.
Free In-home Assessment
The state certified lift installer conducts a free in-home assessment to measure the lift area, and provide you with stair lift pricing, availability and warranty information.
Contact Stair Lifts Atlanta, LLC by telephone at 770.880.3405 and we will assist you in the installation of a stair lift that is exactly suited to meet your mobility needs. Or, you may enter your information in the online contact form below and we will call you!