Johns Creek, Georgia homeowners with mobility challenges are finding huge benefits from curved and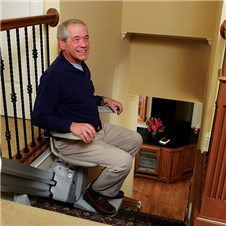 straight stair lifts. Some homes require a straight stair lift, others require a curved — how do you choose the best stair lift for your home?
Some highly popular and trustworthy stair lift manufacturing companies include:
Bruno – Made in the USA, Bruno has been providing accessibility options for handicapped or mobility challenged persons for 20 years. Bruno means quality, high manufacturing standards and excellent service. With both indoor and outdoor; and straight and curved stair lifts to choose from, Bruno has a lift to meet your needs.
Brooks – Brooks has many years experience in the field and a solid reputation to back its name. Brooks stair lifts are made with advanced technology and high customer satisfaction.
Which one is right for you? Your aging in place specialist at Stair Lifts Atlanta can assist in selecting residential stair lifts in Johns Creek to help you determine what best meets your needs!
Call Stair Lifts Atlanta, LLC at (770) 880-3405 or send an email using our website contact form to the right to arrange a complimentary home assessment for stair lifts in Johns Creek.
Do you need other home accessibility options such as roll-in showers, walk-in tubs or roll-under sinks? Call or email us today for more information.