Nothing is quite as discouraging as realizing that you cannot safely or easily move around inside and outside your home any longer because of a handicap or other mobility challenge. But did you know that straight stair lifts in Chamblee can change that?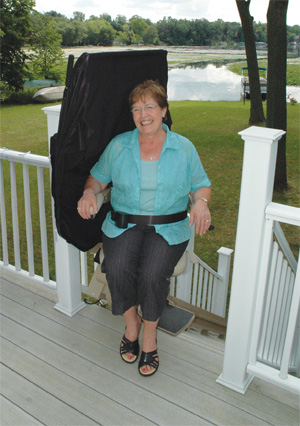 Look at the facts.
Simple – The process of buying and installing a straight stair lift is so easy that it can can be completed in as little as a few days!
Affordable – Your trusted accessibility specialist wants to help and will work with your budget to make this a reality.
Effective – Installing a straight stair lift or curved stair lift means safe, smooth and comfortable passage up and down the dreaded steps, both indoors and outdoors.
Why not call your aging in place specialist at Stair Lifts Atlanta for a free in-home consultation? You'll get the answers to all your questions and discover the ways stair lifts in Chamblee can benefit your life.
Call Stair Lifts Atlanta, LLC at (770) 880-3405 or send an email using our website contact form to the right to arrange a complimentary home assessment for stair lifts in Chamblee.
Do you need other home accessibility options such as roll-in showers, walk-in tubs or roll-under sinks? Call or email us today for more information.