Stair lifts have changed the lives of many individuals who suffer from mobility limitations that make it difficult (or impossible) to climb stairs. There are countless advantages to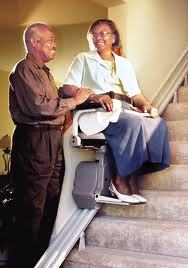 buying a stair lift. In fact, even those metro Atlanta or north Georgia homeowners owning curved or irregularly-shaped staircases can enjoy the benefits, with the simple installation of a curved stair lift.
Do you know what to look for when you shop for a curved stair lift? The best curved stair lift features include:
Seat: Ultra-comfortable seat cushioning
Operation: Ease of operation for even the most dexterously-challenged people
Safety: Safety belt for maximum sense of security
Swivel Seat: Swivel seat with locking mechanism for safe chair-to-landing transfer
Installation: Efficient installation by a Georgia certified stair lift installer
Support System: Smart design which attaches the lift to the stairs and not the adjoining wall
Sensors: Built-in sensors to detect any obstructions or problems
Remotes: Remote control options
Folding Rail: Fold-away rail options at the bottom for space conservation
These features highlight some of the best in curved stair lift advantages. Your metro Atlanta certified aging in place (CAPS) specialist can fill you in on additional life-enriching boons a curved stair lift could bring, today!
Contact Stair Lifts Atlanta, LLC by telephone at 770.880.3405 and we will assist you in the installation of a stair lift that is exactly suited to meet your mobility needs. Or, you may enter your information in the online contact form and we will contact you!