There are a number of reliable stairlift manufacturers we represent, including Bruno and Sterling Handicare. Offering a wide array of straight and curved stairlifts, with optional outdoor lifts and perch seat stairlifts available on the Sterling 1000 and 2000 lifts, Stair Lifts Atlanta has the perfect lift for your home or office.
Perch Seat Stair Lift
A Sterling Perch Seat stair lift offers, "Perch stairlifts are designed to assist those who find a seat position uncomfortable. A Perch Seat means that the user is almost in a standing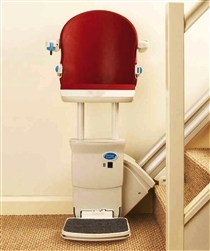 position when they are using the lift. There is a shortened seat and retractable seat belt which provide a stable support area for users to 'perch' on."
State Certified and Factory Trained Technicians
With technicians who are state certified and factory trained experts, we have the best technicians giving you a high-quality installation—guaranteeing a safe and reliable operating stairlift. Atlanta Home Modifications, LLC we will assist you in the installation of a Sterling perch seat stairlift, elevator or stair lift chair that is exactly suited to meet your in-home needs.
To find out more about our Bruno and Sterling Handicare perch seat stairlifts; and which type you need for your staircase, call us today at 770.880.3405 for an appointment by a stair lift specialist certified by the State of Georgia.
Related articles