Does your Atlanta home have a front stair or deck stair that prevents you from gaining access to your home? Or possibly, your back yard may have a few steps that prohibit you from going out into your garden area. Many Atlanta area homeowners install Sterling outdoor stair lifts on metro Atlanta or North Georgia stairs at the front and back of the home (or office). 
Outdoor stair lifts are often the solution to these types of accessibility challenges. They fit the bill when an accident happens and they ar e also the solution as you plan ahead to maintain your independence and mobility as you age-in-place in your family home. Other options for exterior accessibility include handicapped wheelchair ramps for homes, indoor stair lifts, and platform lifts.
Sterling Stair Lifts offer the features and warranty you look for to guarantee safe and reliable exterior access all year long. The Sterling stair lift for outdoor use is designed to withstand the elements. The lift has the following features: safety controls, easy installation on a straight stair, folds up when not used, and the sw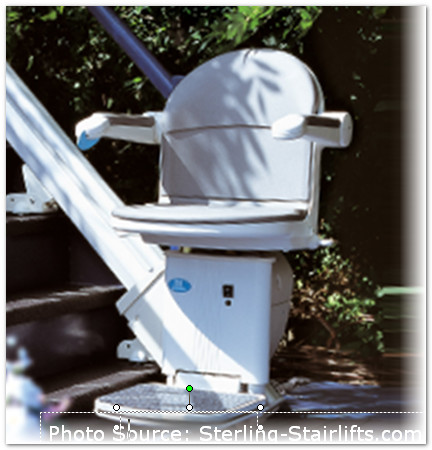 ivel seat allows riders to easily get off and on the stair lift.
If you or your family member is unable to transfer out of a wheelchair, you may consider a Sterling outdoor platform lift.
Contact Atlanta Home Modifications, LLC at 770.880.3405 for more information about indoor and outdoor stair lifts, platform lifts, wheelchair ramps and residential elevators.
Images via Istockphoto and Sterling Stair Lifts