For mobility-challenged people who struggle with moving about their home, stair lifts in Vinings may be the answer! What is a stair lift?
A stair lift is an accessibility device which affixes to the steps of your staircase, and makes the transition from one floor to another both simple and safe. The user sits on the lift, secures the safety belt and maneuvers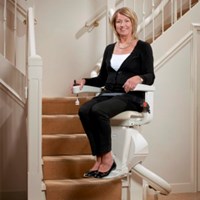 himself to the desired level.
Designed for optimum comfort and reliability, curved and straight stair lifts are becoming popular choices for those who wish to remain living independently in their own homes.
Stair lifts in Vinings come in two styles – the straight stair lift and the curved stair lift – and can be used for indoor or outdoor purposes. The model you will have installed is contingent on the type of stairs you have in your house. A certified independent design specialist can assist you in selecting exactly what you need.
Call Stair Lifts Atlanta, LLC at (770) 880-3405 or send an email using our website contact form to the right to arrange a complimentary home assessment for stair lifts in Vinings.
Do you need other home accessibility options such as roll-in showers, walk-in tubs or roll-under sinks? Call or email us today for more information.