The question of whether or not to purchase a curved stair lift or straight stair lift is becoming a topic of more relevant conversation for those who suffer from mobility challenges. So how do you know if stair lifts in Stockbridge homes can help you? Here are a few questions to ask yourself?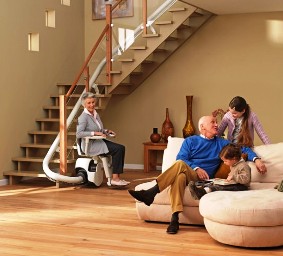 Do you have difficulty moving successfully throughout your home, particularly up and down stairs?
Have you considered moving your bedroom down to the ground floor, or even moving to another house, because you are limited in your accessibility?
Do your family and friends worry about you being home alone?
Do you want to remain in your home, living as independently as possible?
If any of these questions apply to you, your local certified aging in place specialist (CAPS) can help you determine your needs, evaluate the problematic staircase and suggest a suitable lift model for your indoor or outdoor situation. A stair lift in your Stockbridge home can help you become more independent today!
Call Stair Lifts Atlanta, LLC at (770) 880-3405 or send an email using our website contact form to arrange a complimentary home assessment for stair lifts in Stockbridge.
Do you need other home accessibility options such as roll-in showers, walk-in tubs or roll-under sinks? Call or email us today for more information.