Are you limited to one floor of your house or even thinking about re-locating to a single-level dwelling due to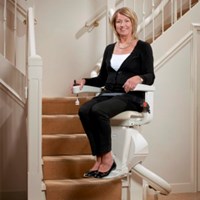 mobility challenges? Before taking further action, check out a solution that provides independence such as the installation of a new stair lift in your Snellville home.
With the installation of a straight or curved stair lift, you will have access to:
A highly specialized yet affordable and easy to use mobility device
Smooth and secure transfer from one level to another
Comfortable seating for an enjoyable ride
Multiple safety sensors to make sure the lift is functioning properly at all times
Attractive design to complement your home décor
Peace of mind for yourself and those who care about you
Has climbing the stairs become the bane of your existence? Don't settle for limited mobility when you don't have to. Call your local independent design expert to find out if the installation of curved or straight stair lifts in Snellville can be of help to you!
Call Stair Lifts Atlanta, LLC at (770) 880-3405 or send an email using our website contact form to the right to arrange a complimentary home assessment for stair lifts in Snellville.
Do you need other home accessibility options such as roll-in showers, walk-in tubs or roll-under sinks? Call or email us today for more information.