Have you developed significant concern or hesitation about going up and down stairs in your home?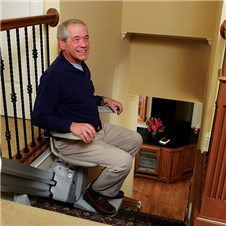 Mobility design experts say that installing new home stair lifts in Huntsville AL can cause those negative thoughts about your stairs to vanish.
Why should you consider a new stair lift?
Affordable – Straight stair lifts are extremely reasonable, and you not only get access to a high quality accessibility device, but you get peace of mind as well.
Easy to use – While the technology is advanced, the stair lift is extremely user friendly.
Safe – Your stair lift comes loaded with numerous safety features to inspire confidence during use.
Custom designed – Curved stair lifts are custom designed to fit your home and made to carry the passenger around the bends in curved stairs or multiple stair runs with a landing in the middle.
Extremely safe, the home stair lifts in Huntsville AL are available with multiple safety sensors on the footrest and main unit that quickly stop the lift at any obstruction on the steps. Two remote controls, with large easy to use buttons, are standard features.
Don't let hesitation about using stairs limit your enjoyment of your home. Your Georgia certified stair lift installation expert can make such feelings a thing of the past with new home stair lifts in Huntsville AL.
Call Stair Lifts Atlanta, LLC at (770) 880-3405 or send an email using our website contact form to the right to arrange a complimentary home assessment for stair lifts in Huntsville AL.