There are many blessings associated with aging, but limited mobility is not one of the most desirable tag-a-longs. Thankfully, with stair lifts in Hoschton homes, that difficulty can be considerably alleviated.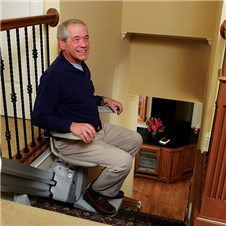 Why should you consider a curved stair lift or straight stair lift for your home?
Stair lifts are affordable, highly specialized accessibility device recommended by certified aging in place design experts.
Stair lifts are designed particularly for safe and comfortable transit from one floor to another indoors or from ground level to a raised entryway outside.
Stair lifts are attached to the steps of a staircase for extra support and minimal impact on your current design.
Stair lifts are bring peace of mind both to the mobility challenged users and the family and friends who are concerned about them.
Stair lifts are can be purchased in either a straight or curved stair lift model to fit your stairs.
Call Stair Lifts Atlanta, LLC at (770) 880-3405 or send an email using our website contact form to the right to arrange a complimentary home assessment for stair lifts in Hoschton.
Do you need other home accessibility options such as roll-in showers, walk-in tubs or roll-under sinks? Call or email us today for more information.