Ornate stairs are a beautiful complement to any home décor. But they can become a source of frustration in the event of mobility issues. But, thanks to curved stair lifts in Gainesville GA, you can have the ability to get up and down stairs within your home.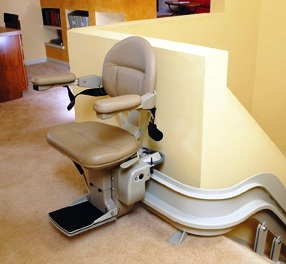 Curved stair lifts are designed to carry a person with a disability or an illness up one flight of stairs, such as where two straight flights of stairs has a landing in the middle.
What should you look for in a curved stair lift?
Comfortable seating – A plush seat can reduce pressure points, making the ride enjoyable as well as secure.
Ease of use – The lift needs to be easy to operate, even when there are dexterity issues at play.
Locking swivel seat – This feature makes getting on and off the lift so easy because it can be done on the level floor instead of on the stairs themselves.
Qualified installers – Your Georgia certified stair lift installer guarantees an excellent job.
So check out curved stair lifts in Gainesville GA for beautiful and accessible stairs! Call Stair Lifts Atlanta, LLC at (770) 880-3405 or send an email using our website contact form to the right to arrange a complimentary home assessment for stair lifts in Gainesville GA.
Do you need other home accessibility options such as roll-in showers, walk-in tubs or roll-under sinks? Call or email us today for more information.