It's hard enough to realize that moving around your home is a challenge without having to worry about the stairs. Let stair lifts in Decatur AL homes offer a remedy for that!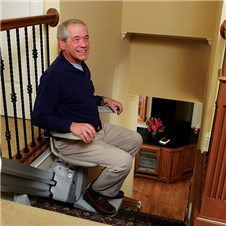 Stair lifts are such useful accessibility tools and here's why:
They work on any staircase – the straight stair lift for a vertical staircase and the curved on anything else – making the transition from one level to the next a seamless experience.
They can be utilized for outdoor purposes in the event of a raised deck or porch entry involving steps.
They bring a sense of security, as the safety belt, arm and footrests provide comfortable protection.
Stair lifts are both affordable and attractive; they give back a feeling of independence as the user can once more have access to the entire house.
Let stair lifts in Decatur AL solve your stair problems once and for all!
Call Stair Lifts Atlanta, LLC at (770) 880-3405 or send an email using our website contact form to arrange a complimentary home assessment for stair lifts in Decatur, AL.