One of the reasons we encourage prospective customers to set up an appointment with our Georgia certified stair lift installer, is to give the installer an opportunity to visit the metro Atlanta home to complete a home assessment. Frequently, we will have a homeowner report that their stair is typical and without unusual details such as irregular steps, extended or long steps, narrowing width or tight spaces at the top or bottom.
Once we have opportunity to visit the home, we sometimes find that there are other circumstances that require consideration prior to adding a stair lift to a home with a switchback stair or a tight space at the top or bottom landing of the stair.
Adding a Stair Lift to an L-Shaped or Switchback Stair
Switchback stairs with a landing in the middle is a classic situation requiring a curved stair lift. One way to avoid the expense of a curved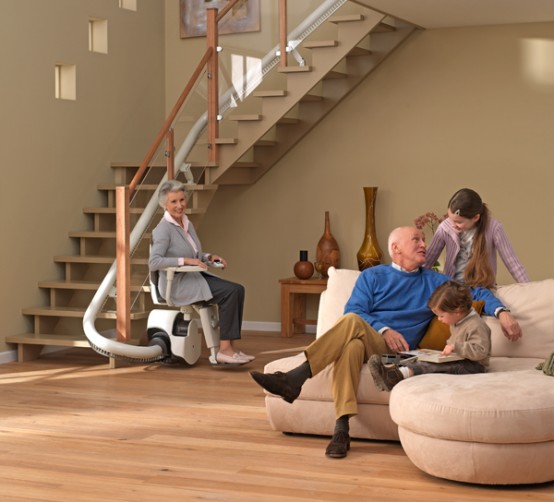 stair lift is to install two lifts, requiring the stair lift passenger to walk from one lift to the other at the landing in the middle of the two runs to the stair. A better arrangement for a double installation is the L-shaped stair.
According to the Ameriglide website, "On some staircases it is possible to install two straight stair lifts instead of going with a curved stair lift. This is called a double installation and will only work if the stair case is shaped like an 'L' and has a 90-degree bend. It also needs to have a landing in the middle."
This arrangement can save from $4-6,000, and enable the Atlanta homeowner to have a stair lift installed in a matter of days, rather than a matter of weeks.
Stair Lift Options for Tight Spaces
Stair lift options for tight spaces often require special lift modifications such as a motorized track lift at the bottom to avoid a doorway opening or nearby obstruction. Two You-Tube videos explaining other types of lifts we install are found at the following links: inclined platform stair lifts, and  ceiling track in-home lifts systems. When a transfer in and out of a wheelchair requires a lift in a home without space for a lift, one of the three following options could be considered; a small enclosed shaft way for a vertical lift or elevator within or adjacent to the home; an exterior vertical platform lift, or a ramp.
Please contact Stair Lifts Atlanta at 770.880.3405 or by email to discuss your accessibility options.
Image via Flickr