Are you shopping for a stair lift in the Metro Atlanta or North Georgia area? The first question to ask yourself when you're thinking through your options is, "Do I have a straight stair or a curved stair?" If your stair runs straight up from the first floor to the second, or from an outside walkway up to a deck – – then you have a straight stair.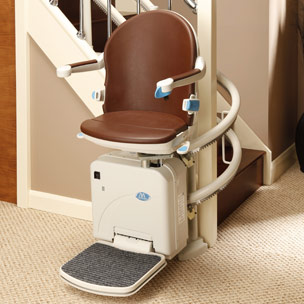 On the other hand, if yours is a switchback stair – – meaning that it goes up a set of stairs to a landing and then you turn either  90° or 180°– you have a switchback stair which requires a curved stair lift. Curved stair lifts vary in configuration in accordance with the dimensions of your particular stair, and therefore must be custom-made.
Contact Stair Lifts Atlanta / Atlanta Home Modifications, LLC and we will assist you in the purchase and installation of a curved stair lift that is exactly suited to meet your mobility needs. Now that you know that switchback stairs require a curved stair lift for your Atlanta or north Georgia home, call us today at 770.880.3405 to discuss your lift options, or to set up an appointment with our Georgia certified stair lift specialist.
Related articles