Have you become dependent on a family member or caretaker to help you around the home? Straight and curved stair lifts provide self-sufficiency by placing every level of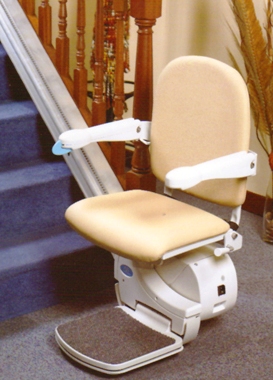 your Atlanta home within reach. A home stair lift makes your daily life go more smoothly!
Straight Stair Lift?
One of the first questions to ask when shopping for a stair lift is whether you need a straight or a curved stair lift. Straight stair lifts are the answer if the stair is a straight run from one floor to the next. Whether it is access from the exterior of your home or from one floor to another floor inside the home, straight stair lifts may be the solution you have been looking for.
Curved Stair Lift?
If the stair accessibility challenges you face involve a stair that goes to a landing and then switches around up another set of steps, these stairs would require a curved stair lift. Contact Atlanta Home Modifications, LLC and we will assist you in the installation of a ramp, lift, elevator or stair lift chair that is exactly suited to meet your needs, in your home.
Call us today at 770.880.3405 to set up an appointment by a stair lift specialist who is certified by the State of Georgia, or email us using our Atlanta Home Modifications contact form.
Related articles