Are you having accessibility challenges getting in to your metro Atlanta or north Georgia home, due to a disability or illness? Or are you simply desiring to maintain your independence and mobility as you work in the garden or barbecue in the back yard?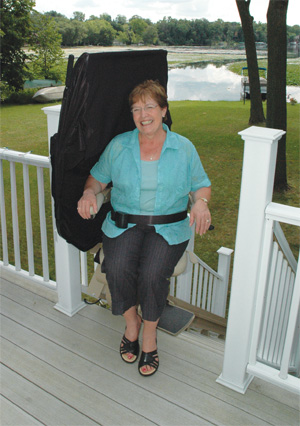 The solution to your access challenge may be an advanced technology Bruno outdoor stairlift, such as the Bruno Electra-Ride Elite. Designed with all of the standard features, the Electra-Ride Elite for outdoor applications will withstand the elements. It includes a convenient attached cover to protect it from water and sun.
The lift quickly installs on a straight stair, folds up to a compact profile when not in use, and is equipped with safety controls and key-operated switches. The swivel seat allows easy on and off movement.
The outdoor stair chair is equipped with all of the reliability and comfort features you require for your personal safety and protection, and will provide the dependability you are looking for in your outdoor stairlift investment. Contact Atlanta Home Modifications, LLC at 770.880.3405 for more information about indoor and outdoor stair lifts, platform lifts and residential elevators.